5 Steps to Reverse the Effects of Aging
to Avoid Chronic Disease!
Worried about Chronic Disease? Did you know it only takes 30 minutes a day to Reverse the Effects of Aging?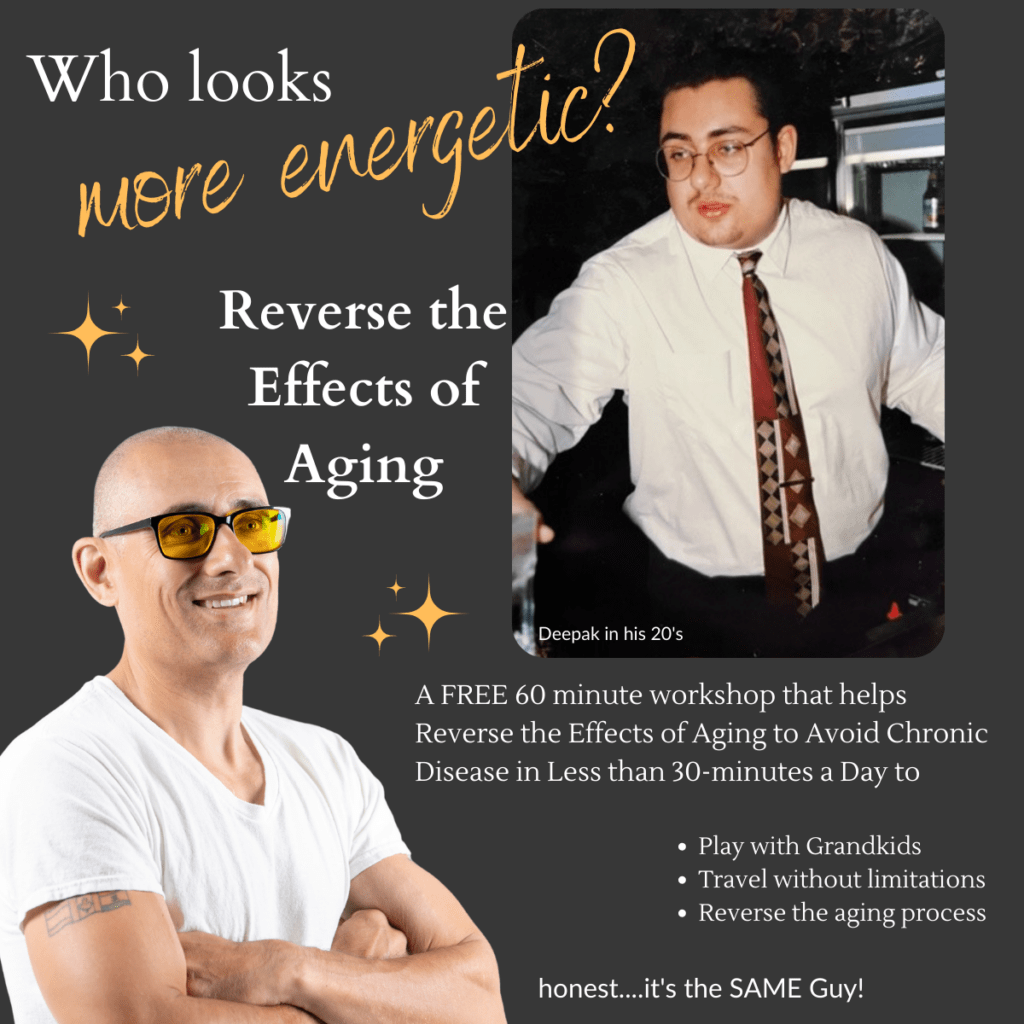 Saturday, September 9
Noon EST/ 10am MST/ 9am PST
Monday, September 11
6pm EST/ 4pm MST/ 3pm PST
Tuesday, September 12
6pm EST/ 4pm MST/ 3pm PST
Wednesday, September 13
6pm EST/ 4pm MST/ 3pm PS
Thursday, September 14
6pm EST/ 4pm MST/ 3pm PST
Friday, September 15
6pm EST /  4pm MTN / 3pm PST
Saturday, September 16
Noon EST /  10am MTN / 9am PST
Only 5 spots remain!
Monday, April 3
6pm EST/ 4pm MST/ 3pm PST
What if I told you almost everything you have been taught about aging is wrong? Aging no longer looks like how it was for your parents or grandparents. Things have changed, and science has changed.
We've been taught to believe that at a certain age, you need to slow down, that aches and pains are normal, or that everyone is on 3 or more medications. It doesn't have to be this way, not anymore!
It does not need to be how you imagine it. You are just not aware of the integrated strategies needed to Reverse the Effects of Aging and live healthier for longer.
5 Steps to Begin to Put Aging on Hold for Driven and Successful Leaders!
Join me for this 60 min workshop where we will discuss:
Discover your potential to be YOUNG again!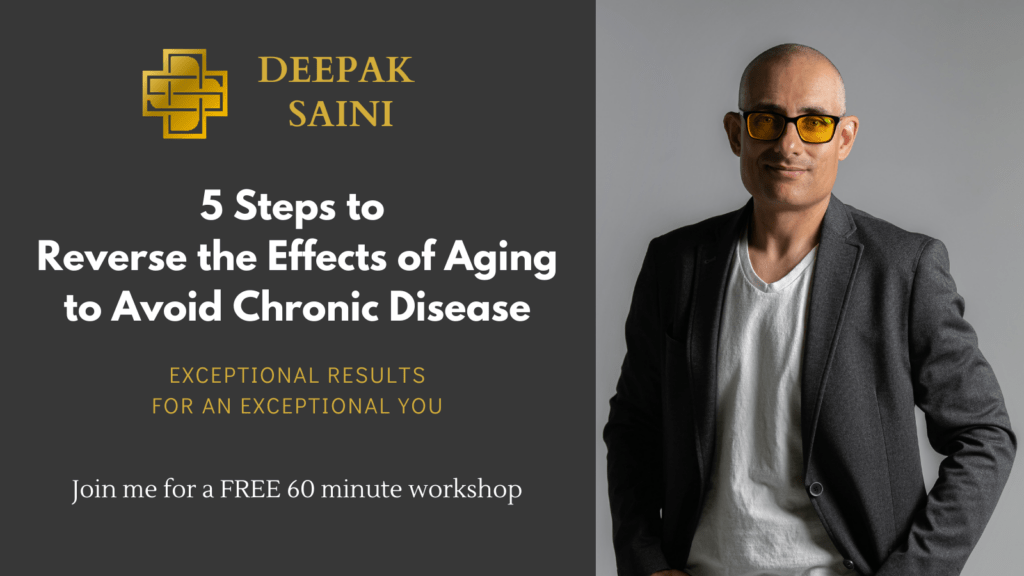 How would your life change if:
If any of these sound ideal to you, this workshop will help you learn how you can change your relationship with "aging" by taking charge of your health in a new way!
"Since completing the program, I've noticed a significant improvement in my ability to think more clearly and make better decisions. Plus, I'm sleeping more soundly than ever before!"
"I never thought I'd be able to lose 60 pounds, but thanks to this program, I did it!! Overall, I feel healthier, happier, and more confident than ever before!"
"I had been stuck on my CPAP machine for years, but after completing the program, I finally got the relief I needed. Thanks to the program, I'm now able to sleep soundly without the mask and machinery."
"I can confidently say that since completing the program, my focus has improved tremendously. The results speak for themselves - there has been a noticeable increase in sales!"
Deepak Saini is an Anti-Aging and Longevity Coach. Having spent many stressed years in the corporate world and overcoming an autoimmune condition, back injury and lifelong battle with obesity, Deepak brings a unique perspective to working with his clients. When not spending time with his family, Deepak is researching and staying at the forefront of emerging and cutting-edge health research. Deepak is a speaker, course instructor, writer and actively working on becoming a Centenarian.
Change to rewind your Biological Clock and Reverse the Effects of Aging!